Canine Basics offers two different therapy dog programs.
Compassion Canines is our volunteer animal assisted visitation program. This program is made up of volunteer teams, handler and dog, who are registered as a therapy dog team, and volunteer visiting in the community. Compassion Canines is home to Cornwall's only R.E.A.D. certified teams (Reading Education Assistance Dogs) and is the longest running therapy dog program in our area!  To learn more check out Compassion Canines.
Canine Basics also offers animal assisted therapy. This is a paid professional service that works to meet set goals. Our handler is a member is an accredited therapist with over 25 years working in mental health, developmental disabilities,  and in AAT. For more information click here.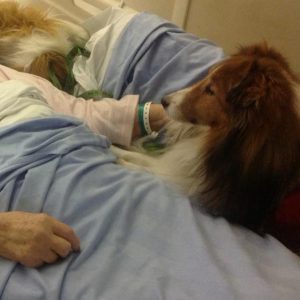 SaveSave