Canine Basics is pleased to offer private Animal Assisted Therapy (AAT) sessions through Compassion Canines. The dog used is a registered therapy dog.  The handler is a mental health professional.
A wide range of human health professionals and practitioners recognize what many people in the animal caregiving fields and everyday pet owners have known for years: that pets can be good for our health and well-being. Companion animals are being introduced into the therapeutic regimens of nursing homes, hospitals, rehabilitation centers, counselling sessions, behavioral health programs and others.
Definition: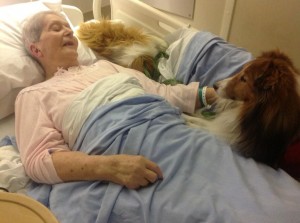 Animal-Assisted Therapy (AAT) is a goal-directed intervention in which an animal meeting specific criteria is an integral part of the treatment process. AAT is delivered and/or directed by a health/human service provider working within the scope of his or her profession. AAT is designed to promote improvement in human physical, social, emotional, and/or cognitive functioning. AAT is provided in a variety of settings and may be group or individual in nature. This process is documented and evaluated.  Benefits include increased motivation, improved range of motion, strength training, balance, memory exercises, speech, self esteem, socializing, and sensory stimulation (touch).  
 As an accredited music therapist, I have worked in mental health and health care for over 25 years and  trained and handled therapy dogs for that same period of time.
 I offer animal assisted therapy as a consultation service.  Because AAT is designed to meet the needs of the individual it usually involves working with one client at a time, often in the client's home or at a care centre, hospital, or rehabilitation centre. Sessions are one or more times per week for a set period of time and are geared towards meeting specific therapy goals. These goals may be created in consultation with other health care professionals.   AAT is not meant to replace other therapies such as counselling,  physiotherapy or speech language pathology, but to supplement and enhance therapies. AAT may also be used with children and adults to help with post traumatic stress or to reach academic goals such as reading or speech goals. AAT is a professional service and fees vary.