How to become a member of Compassion Canines:
Contact Canine Basics (use the contact us form) and put "Compassion Canines" in the subject line.
Let us know you are interested in the Compassion Canines program.
Check to see if your dog meets the basic requirements. These are:

Must be at least one year of age.
Must have current rabies vaccine (titres accepted)
Complete the ATD registration evaluation

Please note: At the present time all dogs in the Compassion Canine program are required to register as therapy dog with the "Alliance of Therapy Dogs" (ATD).  Compassion Canines (through Canine Basics) is pleased to provide a T/O to do the therapy dog evaluation.
Additional information on the ATD registration process can be found here (Please note that you do not have to be a member of Compassion Canines to be registered with ATD., we are pleased to offer the ATD evaluation to anyone who is interested)
Provide proof of rabies and a volunteer police check (required for visiting) and you are set to join Compassion Canines!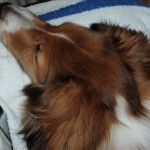 Compassion Canines will:
Help you find a place to visit that fits your interests and needs and is in the area of your choice
Connect you with a local group of volunteer therapy dog teams
Provide you with the opportunity to work with children or adults in your first year, no additional child test required
Provide you with the opportunity to become a R.E.A.D. (Reading Education Assistance Dog).
We permit dogs who are on raw or home made diets (we are the only program in the area that allows dogs on raw diets, this includes dogs fed dehydrated or freeze dried treats which are considered raw food by other programs)
We require only rabies vaccine.  All other vaccinations are optional. If you titre your dog for rabies this is acceptable.
There is no fee for the evaluation and no set minimum hours per year to volunteer
Provide opportunity for promotional events such as participating in the Santa Claus parade
Compassion Canines is open to anyone in SDG area. If you are outside this area you may still evaluation under ATD. Just contact us for information!
And much much more!
Compassion Canines … it is more then you could ever imagine ….
SaveSave
SaveSave
SaveSave