December 2012
Introducing "Dogs Gone Good!"  This class focuses on socialization and basic skills for dogs.  Work with your dog in a group and in the community. This class lets your dog learn skills to socialize with other dogs and people while working on skills that will help it be a good member of your household. See our class instruction page for more info!
November 2012
Does your dog have food allergies?  Are you looking for a special training reward?  Do you want to be sure the treat you give your dog is good quality? Or do you just want to spoil your dog?  Canine Basics is pleased to introduce "Basic Goodies" … natural home made dog treats.  We are starting this on a trial basis so supplies are limited.  Contact us to reserve your dog's special treat!  Check out the Basic Goodies page for more information.
March 2012
Canine Basics is pleased to announce that I have submitted my final documentation for my certification in canine massage therapy.  We will be accepting clients as of April 1.  Please contact us for hours and to schedule appointments!  We are thrilled to be offering this service to the Cornwall area!  A special thanks to the volunteers who participated in my training over the past months.  It has been a lot of work and learning but a lot of fun too!  Now to apply what we've learned … bring on the dogs!
January 2012
Canine Basics is pleased to announce that we are in the final stages of full certification for canine massage.  We are now accepting clients for April 2012 when certification will be finalized.  To book a session please contact jane@caninebasics.ca    Look for our Canine Basics Massage page coming soon!
Summer 2011
Training in massage therapy continues.  Canine Basics is currently working with clients as part of training and will be prepared to accept full clients soon.  Keep an eye on the website to know when we will be accepting clients for massage!
Spring 2011
For Spring Canine Basics is pleased to introduce private classes.  We are often asked for individual assistance on specific issues or for dogs that are not social enough to be in a class session.  Therefore Canine Basics is pleased to introduce private sessions. These sessions can be held at your home or out in the community. For socialization the Canine Basics Canine Crew also offer their assistance when needed.  For most issues only a few sessions are needed to provide the direction and assistance to resolve issues. To learn more please contact us!
Canine Massage Therapy
LOOKING FOR CANINE VOLUNTEERS!
As part of my canine massage therapy training I need two canine volunteers.  I am looking for one (1) dog over the age of 9 as well as one (1) dog between the ages of 2 – 6 years with a known skeletal problem (for example, hip dysplasia).  Each dog would receive four massage sessions as part of my training program. The sessions would be videotaped for training and review.  Dogs must be available at least once per week to volunteer (which means their owners must be available too).
If you would be interested please email jane@caninebasics.ca
and remember …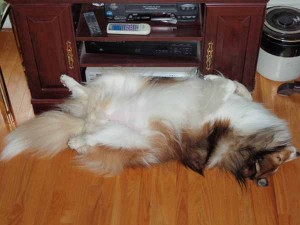 A relaxed dog is a happy dog!
At Canine Basics we believe the Human – animal bond is one to be celebrated.  From time to time we will host special events. These might include hiking in the Adirondacks or heading out for a picnic with family, friends, and canines.  Past and current students of Canine Basics who would like to participate are welcome to join us.  Keep an eye on the web site for announements of upcoming events!