Massage for Dogs?  Yes!
Canine massage therapy is much more then just petting the dog! It is a natural, holistic therapy that can help to improve your dog's quality of life, assist in improving their range of movement and muscle function, and even helps to increase trust through the calming touch of the massage strokes.
Canine massage therapy is goal focused and results driven.  Depending on your dog's needs improvement is often seen in 1 – 3 sessions.
Benefits of massage include:
Promotes health and prevents injury
Decreases recovery time after surgery,  strenuous training, or  competition
Promotes Relaxation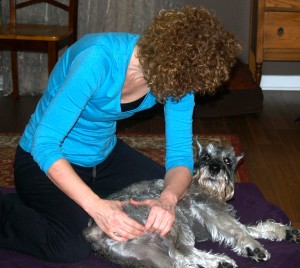 Relieves tension, calms nervousness
Relieves pain
Increases circulation by improving bloodflow
Improves injury recovery and shortens recovery time
Helps reduce swelling, inflammation, scarring
Increases range of motion and flexibility
Improves general health and well-being
Early detection of health changes
Improves skin and coat condition
Click HERE to contact us and book an appointment now!
Click HERE to learn about the canine massage therapy services and fees by Canine Basics!
Would my Dog Benefit from a Massage?
Yes!  If you have ever had a sports massage yourself and felt the differences in your own body, then you know the relief and benefits that your dog will experience from having a highly effective canine massage.
Like humans dogs can experience muscle aches and strains. Dogs slip on the floor while they are playing or run into things outside.  They may slip on ice or snow in winter.  A dog can step in a hole in the ground on their daily walk and keep on going without you realizing they are aching. Chasing balls and Frisbees in your yard or training and competing in agility, obedience, disc dog, and for the conformation ring …  all of these daily activities have the potential to injure your dog or cause 'wear and tear' over time.
Some specific conditions that benefit from massage are: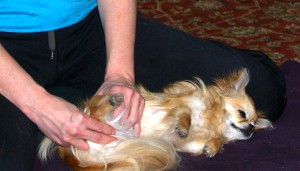 Orthopaedic conditions including:

Arthritis
Hip Dysplasia
Elbow Dysplasia
Spondylosis
Luxating Patella

Post Surgery Recovery
Canine Athletes

Improves recovery and helps prevent injury

Really any dog can benefit!
Please note that massage is not a substitute for proper veterinary care. Canine Basics is pleased to work in cooperation with your veterinarian and reserves the right to request a veterinary consult if needed.
Let Canine Basics help you meet the basic 'kneads' of you dog!